Contact us ideoszen@gmail.com .... Official Site in greek language www.epicuros.gr
---
News
8th Panhellenic Symposium of Epicurean Philosophy

February 10-11, 2018, Cultural Center of Pallini, Athens
Free entrance
The Symposium is annualy organized, with free entrance, by the Friends of Epicurean Philosophy Garden of Athens and Garden of Thessaloniki under the auspices of the Municipality of Pallini. The Pan-Hellenic Symposium of Epicurean Philosophy takes place every year in February, because Epicurus was born in that month, and always in Pallini, because that particular municipality of modern Athens metropolitan area includes the ancient Athenian demos of Gargettus, from which Epicurus originated.
---
Program
February 10, 2018
THE PHILOSOPHY OF EPICURUS
Greetings from the Gardens of Athens, Thessaloniki, Trikala, Chalkis, Imathias (Greece), International Friends of Epicurus
1. PRINCIPLES OF EPICURUS' PHILOSOPHY
Praise of Epicurus by a Roman Epicurean
Introduction to Epicurean Philosophy
2. EPICUREAN THERAPY OF PSYCHE
Epicurean psychotherapy with frank criticism
Philodemus "On anger"
Lack of freedom of the dependent person and the epicurean liberation of his mind
Control of stress and Epicurean philosophy
Interval: Viewing of Posters
Music Interval: Greek songs involving Celestial bodies
3. EPICURUS AND FREEDOM
Free will in Epicurean philosophy
Free human being: a course from darkness to light
"Potentially" (segment of a film by Theodoros Maragos)
Discussion: "Mental health, freedom and happy living"
Actual symposium (dining and drinking) in a local tavern with music
February 11, 2018
EPICUREAN PHILOSOPHY FROM ANTIQUITY TO OUR TIMES
4. EPICUREAN HISTORY
Important difference of sage and friendship between Epicurus and Plato
Focusing of thought into an impression as criterion of truth
Montaigne and epicurean pleasure
Reception of Epicurus by Greeks in Vienna during Enlightenment
Critique by Lenin to Hegel's critique of Epicurus
Death in texts of Philodemus and Lucretius
Interval: Viewing of Posters
5. EPICUREAN PHILOSOPHY AND SOCIETY
An Epicurean politician
Epicurus and economic theory
The Epicurean philosophy as a fence against misinformation
6. EPICUREAN PHILOSOPHY AND ART
Epicurean philosophy and poetry
Criteria for Art according to Philodemus
Artistic photography and Epicurean philosophy
Discussion: "Socially happy life"
---
Modern Texts
---
Epicurus in Medicine - "HIPPOCRATIC CORPUS WORK "PRECEPTS":
PHILANTROPY AND UTILITY IN MEDICINE" by Christos Yapijakis (2017)
---
"Epicurean views on euthanasia (good death)" by Takis Panagiotopoulos (2017)
---
"How the portrait of the Athenian philosopher Epicurus became known to us" by Takis Panagiotopoulos (2017)
---
---
7th Panhellenic Symposium of Epicurean Philosophy
February 11-12, 2017, Cultural Center of Pallini, Athens:A Report by C.Yapijakis
---
For the seventh consecutive year since 2011, more than 400 people from all over Greece, a new record of participants, gathered at the Cultural Center of Pallini in Athens in order to attend the two-day Pan-Hellenic Symposium of Epicurean Philosophy.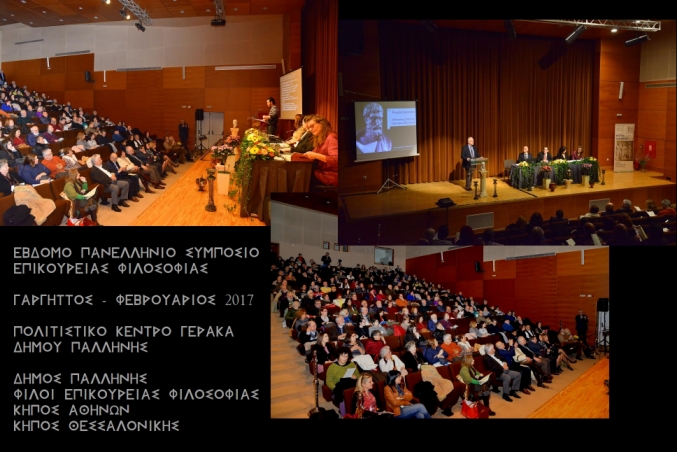 The 7th Pan-Hellenic Symposium of Epicurean Philosophy was unanimously a great success and took place in a warm friendly atmosphere, despite the cold weather. There were two sessions on the first day and two sessions on the second day of the Symposium with 19 oral presentations, two discussions, 6 poster presentations, as well as three artistic intervals.
At the opening session of the first day on Saturday, February 11, 2017, the Mayor of Pallini Athanassios Zoutsos said that a website with the Declaration of the Right of Happiness in the European Union has been launched (www. eudaimonia.eu) with information regarding a future campaign of collecting signatures in order to bring the issue to the EU parliament. The initial greetings of representatives
from the Greek Gardens
were followed by the friendly greetings
from Hiram Crespo
(International Society of Friends of Epicurus),
from Geoff Petersson
(Garden of Sydney, Australia), and
from Cassius
(newepicurean.com, USA).
Session 1 PRINCIPLES OF EPICURUS PHILOSOPHY started with a hymn to Epicurus written by Lucretius and beautifully recited by actor Giorgos Klonis. Then, the presentations "Life of Epicurus" by Christina Toumba and " The philosophy of Epicurus" by Kostas Triantafyllidis covered a broad introduction for those attendants with limited knowledge of Epicurus and his philosophy.
Session 2 LUCRETIUS AND SCIENCE was dedicated to the 600 years anniversary of the discovery of the manuscript of Lucretius' masterpiece "On the nature of things" (1417-2017), and its influence to natural philosophy and science. All presentations showed the scientific verification of Epicurean concepts. "Lucretius and Physics" covered by Giannis Alexakis who covered among other things the Brownian motion and the uncertainty principle, "Lucretius and Astronomy" by Fiori Metallinou showed the vastness of the universe and multiplicity of worlds, "Lucretius and Biology" by Christos Yapijakis discussed evolution of living organisms by natural selection, neurobiology, laws of genetics and extraterrestrial life, "Lucretius and Psychology" by Anna Pagoropoulou revealed the similarity of Epicurean ethics with cognitive psychotherapy, and "Lucretius and Sociology-Criminology" by Erasmia Bitsika illustrated the crime prevention capability of the Epicurean philosophy.
The Session was followed by guitar playing by Antonios Erimos of musical pieces "Dust in the wind" (Kansas, USA), "La vita è bella" (Nicola Piovanni, Italy), "Imagine" (John Lennon, UK), "A felicidade" (Antonio Carlos Jobim, Brazil), while at the same time the lyrics translated in Greek were shown.
Session 3 EUZOIA (GOOD LIFE) AND EUTHANASIA (GOOD DEATH) started with presentation
"Epicurean views on euthanasia (good death)" by Takis Panagiotopoulos
who discussed Epicurus' death and the Epicurean attitude that a good life leads to a good death. Evangelos Protopapadakis discussed the "Epicurean, Stoic and Kantian views regarding suicide", while Dimitris Liarmakopoulos spoke about good life without the fear of death. Finally, a live discussion on the matters of good life and good death kept the audience until 10 pm, when it was interrupted so that the Friends of Epicurean Philosophy could participate in an actual symposium with dining, drinking, and dancing in a nearby taverna .
On Sunday, February 12, 2017, the Symposium started with Session 3 EPICUREAN HISTORY that included two talks, "The Stoic Epictetus against Epicurus" by Babis Patzoglou and "The hetera philosopher Leontion" by Kostas Kalevras.
Session 4 EPICUREAN PHILOSOPHY AND SOCIETY had many very interesting talks. Antonis Bilisis "On education" referred to the importance of introducing the teaching of the Epicurean Canon in Greek high school, so that younger generations be may able to develop a critical way of thinking and approaching reality. Panos Alexandropoulos discussed "Epicurus and Maslow: On needs and desires" showing the similarities between the two thinkers. The American professor Gerald Gutenschwager spoke in Greek regarding "Epicurus and social theory" analysing by an Epicurean point of view the last fifty years of social movements, and focusing on cultural creatives of the last twenty years. "Epicurean view" by Giorgos Kaplanis showed that an advice in an Epicurus' letter might be viewed in different context by different people who do not see the whole picture. Dimitris Altas discussed thoroughly the subject of the "Declaration of happiness in the European Union: conditions and consequences" illustrating that it is of great importance for the future destination of the European Union for the benefit of its people. The Session was followed by an artistic interval in which the Dutchman Francesco Bertels played some selected piano and accordion pieces, while the enthusiastic audience sang along.
The final Session 5 PRESENT AND FUTURE OF EPICUREAN PHILOSOPHY included presentations "Thoughts of the Garden of Athens" by Litsa Pitsikali and "Thoughts of the Garden of Thessaloniki" by Aphrodite Kouroudi. Litsa discussed the proposal of publishing an english book of the best presentations of the 7 Panhellenic Symposia, as well as the vision to organize in 2020 the first International Symposium of Epicurean Philosophy in Athens. Aphrodite mentioned the intended publication of a short version of the Epicurean Canon in an effort to propose its teaching in Greek high school.
The following discussion stirred the audience of the Symposium about several issues. When someone asked the question why Epicureans are not acting politically to change the dire situation in Greece, the easy answer was that we are doing great many things with open access (conferences, open meetings, books, websites) in order to inform as many people as possible so that they may critically change their mentality. The paradigm of the discovery of Lucretius' poem six hundred years ago was mentioned as a text that changed the course of the Western world. The Epicurean philosophy helped people in ancient times and during the Enlightenment and modern times to make themselves and their environment better.
From the six poster presentations, that were viewed during the intervals of the Symposium, the audience seemed to discuss more the following: - "Sociobiology and Epicurean altruistic egoism: From selfish gene to human cooperation" by Christos Yapijakis - "The discovery of Lucretius' De rerum natura" by Takis Panagiotopoulos
---
The Program
---
February 11, 2017
THE PHILOSOPHY OF EPICURUS
Greetings from the Gardens of Athens, Thessaloniki, and other cities of Greece, International Friends of Epicurus
1. PRINCIPLES OF EPICURUS' PHILOSOPHY
Life of Epicurus
Lucretius "On the nature of things" (excerpt recitation)
The philosophy of Epicurus
2. LUCRETIUS AND SCIENCE (1417-2017)
Lucretius and Physics
Lucretius and Astronomy
Lucretius and Biology
Lucretius and Psychology
Lucretius and Sociology - Criminology
Interval: Viewing of Posters
Music Anthology by Antonios Erimos (guitar): Dust in the wind (Kansas), La vita e' bella (Nicola Piovani), Imagine (John Lennon), A felicidade (Antonio Carlos Jobim)
3. EUZOIA (GOOD LIFE) AND EUTHANASIA (GOOD DEATH)
Epicurean views on euthanasia (good death)
Philosophical views on euthanasia
Epicurean euzoia (good life)
Discussion: "Euzoia (good life) and euthanasia (good death)"
Actual symposium (dining, drinking, dancing) in a local tavern with music
February 12, 2017
EPICUREAN PHILOSOPHY FROM ANTIQUITY TO OUR TIMES
4. EPICUREAN HISTORY
The Stoic Epictetus against Epicurus
The hetera philosopher Leontion
Interval: Viewing of Posters
Music Anthology by Francesco Bertels: Selected piano works
5. EPICUREAN PHILOSOPHY AND SOCIETY
On education
Epicurus and Maslow: On needs and desires
Epicurus and social theory
Epicurean view
Declaration of happiness in the European Union: conditions and consequences
6. PRESENT AND FUTURE OF THE EPICUREAN PHILOSOPHY
Thoughts of the Garden of Athens
Thoughts of the Garden of Thessaloniki
Discussion: "Present and Future of the Epicurean Philosophy"
---
WORLD CONGRESS IN PHILOSOPHY (WCP 2016) "THE PHILOSOPHY OF ARISTOTLE"
Athens, 9-15 July, 2016
Aristotle and his influence on later philosophy
"The influence of Aristotle in Epicurus' modification of atomic physics"
Christos Yapijakis
---

since October 2017